Know who's in the know: Get community updates in Maps
More than a billion people turn to Google Maps to navigate and
explore the world and their communities. And thanks to the hundreds
of millions people who contribute information to Google Maps each
year—like the best takeaway dish to order at a local restaurant
or a photo of a nearby park's new open hours—people can get
local recommendations and up-to-date information about where to go
and what to do. We're now making it easier to uncover
community-powered updates and recommendations in Google
Maps. �
Last year we
announced a Google Maps pilot feature that allowed people to
follow select Local
Guides, the everyday people who are passionate about sharing
their experiences on Google Maps. It was exciting to see many of
the Local Guides we invited in our initial pilot opt in and
participate. Equally exciting was the interest we saw from many
Google Maps users who began following top Local Guides to receive
helpful recommendations about the places around them.
Today we're expanding this feature and beginning to roll it
out globally. If a Google Maps user has shared photos, reviews or
lists publicly, you can now follow them and get their
recommendations, advice and updates delivered to your Updates tab
in Google Maps. So the next time you find someone sharing helpful
photos of takeout menus, handy lists of your city's most spacious
parks or inspiring photos of local shops and services, you can keep
up-to-date on all of their recommendations.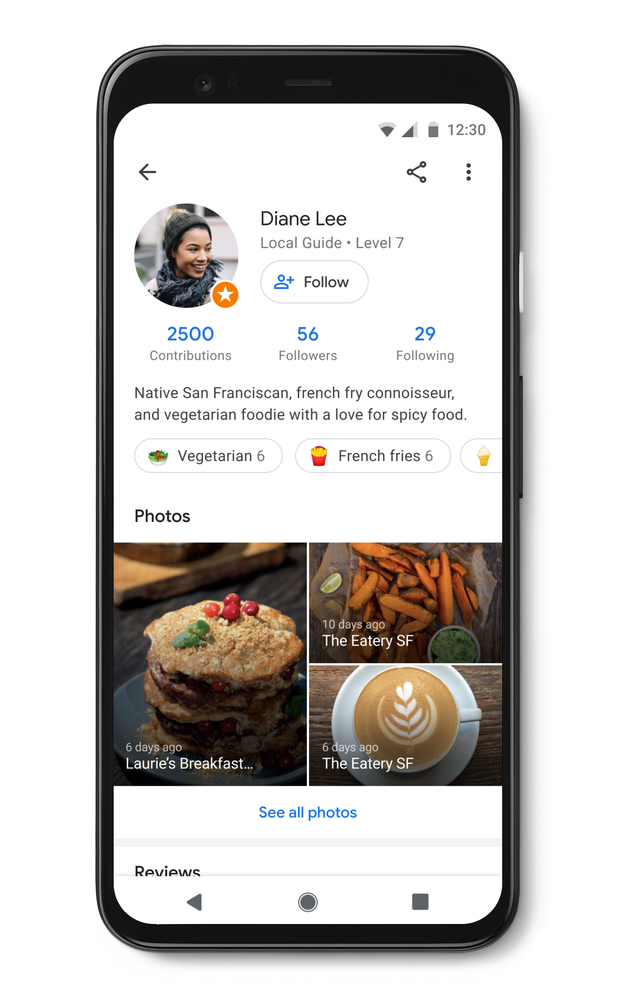 Topic filters add color and flavor to your Google Maps
profile
There will also be new topic filters on Google Maps profiles, so
you can see the topics and places people share about the most, like
pizza, brunch, camping and parks. Whether they're a coffee
enthusiast documenting every last latte, or a hometown expert
reviewing all things Perth or Phoenix, you can follow other Google
Maps users with public profiles to get helpful recommendations
about the places around you.
Control your Google Maps experience and profile
People want to be in control of their digital footprint.
That's why we've built in settings so you can easily manage and
personalize your Google Maps profile. As always, everyone has the
option to show (or not show) their reviews, photos and posts on
their public Maps profile. To become followable in Google Maps, an
eligible user can go to their profile and follow a simple process.
And users who are followable on Google Maps can make their profile
restricted. With a restricted profile, you approve new followers
before they can see contributions on your profile.
Want to share your personality on your Google Maps profile?
Create a short tagline that sparks a sense of adventure. Or simply
drop in a pasta emoji if there are no words to describe how much
you love Italian food.
Profile settings.png

Easily access your profile settings right from your profile
page

Restricted profile setting.png

Turn on a restricted profile to limit who can see your Google
Maps profile

Google Maps followers and following.png

See whose recommendations you're following and who's following
your recommendations in Google Maps
It's people's personal recommendations and access to
reliable, local information that make Google Maps a helpful tool in
your pocket. Now all of that is easier to find and follow.
Source: FS – Social Media Blogs 2
Know who's in the know: Get community updates in
Maps